Witch Stirring a Hanging Cauldron
Background
In the spring of 2004, I decided our little yard haunt needed a witch stirring a cauldron. The prop would occupy the left side of our porch, a prominent position as the TOT's made their visits to the door. This area would make it easy to setup a scene and would provide excellent coverage from the weather.
There were a number of terrific examples on the net from some great prop builders and companies. I ran across a fantastic pair of animated witches with a cauldron built by Rick Stern of StageSix Productions. After viewing a movie and taking a look at the body forms and mechanics, I knew I wanted something like that prop. Since monstermakers.com was selling the complete animatronic display for about $13,000, I also knew I would have look at other alternatives to stay within my very modest budget.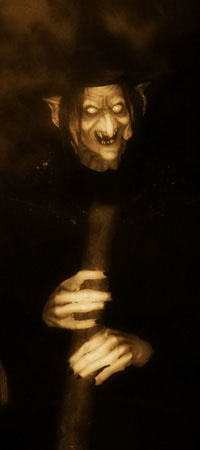 Also on the market at that time was an animated witch being sold by frightcatalog.com and some other retailers. The $3,400 witch featured a large metal-looking cauldron with chains, flickering green lights and a soundtrack, however the cost was still way more than what I was willing to spend on a yard haunt prop.
I decided to try and build a large witch stirring a cauldron myself. There were some excellent handmade props and project descriptions that caught my attention at the time. A terrific crank witch project by Mano showed me the basic mechanics of moving the head from side to side. Scary Terry showed me how to I could use a wiper motor for the stirring motion in this project. And Death Studios created the mask and hands that would provide the creepy details for our witch.
With those ideas in mind, I set out to build our prop. The following pages contain some basic descriptions of the project. The process was very much trial and error. As a consequence, these pages are not a step-by-step how-to with every material and measurement specifically detailed . It's just a simple outline that hopefully will give you some ideas on how to build your own witch stirring a cauldron project.