8-Foot Grim Reaper
Background
For Halloween 2002, we created two new props to join our flying crank ghost on our front porch haunt. One of the props was a large static Grim Reaper that greeted our trick-or-treaters at the end of our sidewalk. The grim reaper stood behind a four-foot tall tombstone made from blue foam which was painted and inscribed with the letters R.I.P.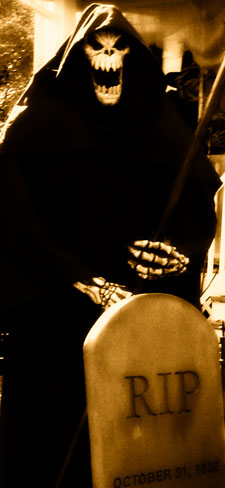 Hidden behind the tombstone was a strobe light pointed up at the prop's face and hidden behind the the prop was a red floodlight, a Sony boom-box, and a 1000-watt fog machine. When the Trick-or-Treaters were near the prop, a switch was turned on which fired the fog machine, turned on the two lights, and cued a soundtrack of a hideous monster-like growl. The fog reflected the red light which provided terrific backlighting to the strobe-lit face, hands and scythe. The prop looked real creepy and sent several kids running back up the walk.
This was a very easy prop to make. The following pages contain some basic descriptions of the project. We hope they might inspire you to create your own 8-foot grim reaper.