$25 Full-Size Toe-Pincher Coffin
Background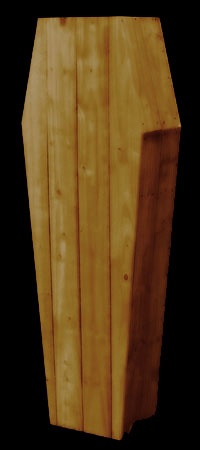 In 2006, we decided we needed a couple of full-size toe-pincher coffins to compliment the half-size coffin we built back in 2004.
One coffin was to be a static prop that would be the home for a new corpse we were building. The other would be an animated coffin. We wanted to minimize the cost of these props and there were several options that had been created by other prop builders that we considered.
There was a coffin built from a single sheet of plywood which met the low cost requirement but really did not seem to match our scene very well. There were also plans for building a full size coffin out of extruded blue foam. While that coffin looked very good and was low cost, we were concerned about storage and durability of that design.
The creative builders at Shadow Valley Funeral Home had used fence pickets to build some inexpensive coffins for their haunt. The decided to use similar materials for our coffins.