Spinning Spider Web Victim
Background
In 2005, we decided to create a spider scene on the right side of our porch across from our stirring witch. Spiders and witches seemed to compliment each other pretty well.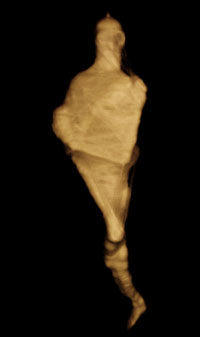 The scene would have a large web with a giant spider in the center and several smaller spiders on the edge. We animated the smaller spiders by using a crank mechanism to make them move up and down on monofilament line.
Below the web and under the giant spider we wanted to have a human shaped "meal" that the spider had seemingly caught and wrapped. We had seen a cool looking professional prop that had been selling for hundreds of dollars but our budget was much more modest. We wanted to spend only about $30. We also wanted the prop to spin under the web.
Our spider victim was based on a "how to" description written by one of our favorite haunters, Zombie-F, over at the Unpleasant Street. It uses a blow molded skeleton that is available at many stores during the Halloween season.
We deviated from those instructions just a little and created the prop described on the following page. As it tuned out, the scene looked pretty good last year and we plan to repeat the setup this year as well.