Rockin' Granny
Background
In 2009, we saw a commercial Halloween prop on the Internet that looked pretty interesting and thought it would fit into a new scene we had envisioned.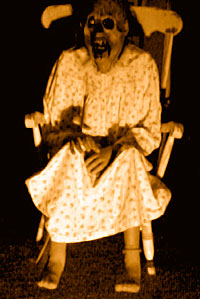 The commercial prop featured an old lady rocking in a rocking chair who spoke to Trick-or-Treaters as she rocked. The neat part was the prop seemed to rock on its own without being connected to an external mechanism.
We did not have the funds to purchase that commercial prop so we decided to build our own version.
Scary Terry had built a wiper motor rocking chair, but it was not exactly what we were looking to do. However, the use of a wiper motor to power the prop seemed like the way to go. So we created a design in our heads that we thought might work. Then we headed to the local home improvement store for a few supplies, pulled out an extra wiper motor when we got back and came up with a prop that worked perfectly the first time.
>>> See How Rockin' Granny Was Built
View a Video of the Finished Prop